Payroll Management Service/EOR(Employer of Record)/third party Employment
Despite Japan's undeniable importance for international businesses, navigating the country's tax and labor laws can be a time-consuming and frustrating roadblock for foreign companies hoping to branch out into the world's third largest economy.
Mannet's unique Payroll Management Service does the work for you. Mannet will employ your staff in Japan for you, eliminating the need to register your entity with the Japanese government and saving you from the costs and headaches of getting your Japanese branch employees paid.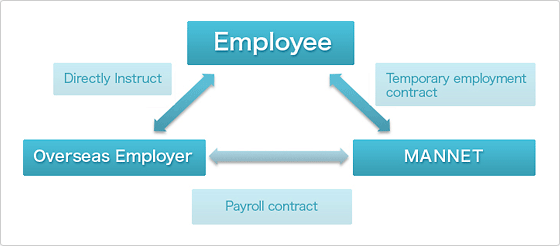 our Payroll/EOR/Third Party Employement Service resolves your situation like below:
Whether you have found the necessary personnel or not, you want to avoid direct employment risk at the beginning
You canont employ the personnel directly because you still not have Japanese subsidiary corpoation
You want to avoid the troublesome task of calculation and statutory payments of insurances and pensions
With our Payroll Management Service, our team will provide you with the best employment solution to fit your needs and process payroll for your employees while conforming to Japanese law. There is no need for complex and time consuming benefit calculations, as MANNET handles all necessary insurances, taxes and pension payments on your behalf.
Additionally, the handling fee for our Payroll Management Service stays fixed at a low basic rate of 12%, regardless of how many employees you choose to take on.
Basic Payroll Service Includes:
Monthly Salary payment
Issuing and distribution of Salary Statements
Calculation and payment of Bonuses
Expense reporting and payment of Expenses
Year-end tax adjustments (YETA)
Calculations and payments for Workers' Accident Compensation Insurance, Employment Insurance, Social (Health & Nursing Care) insurance, Employee's Pension and other statutory payments.
Typical Service Cost
(Base Salary+ *Statutory Payments + **Statutory Paid Leave) + 12% Service Charge *The cost of statutory payments is typically billed at a rate of around 15% (16% for employees aged over 40).
**Only applies to employees paid on an hourly basis. The cost of statutory paid holidays is billed at a rate of around 7%. This charge is not applied to employees signed on a fixed monthly or annual salary.
Payment of bonuses, travel costs and other expenses also typically incur our 12% service charge.
Deposit
In order to build and maintain a relationship of mutual trust, we request an advance deposit of 2 months service cost for each employee. This allows us to continue to pay the employees should there be any unforeseen delays in payment from overseas. As a general rule, deposits are refunded in full upon termination or expiration of contract.

Case Studies:
See How Mannet Helped Foreign Companies Succeed in Japan
Food Products Manufacturer, USA
A leading US producer of gourmet meat products wanted to expand their sales operations in Japan, but did not have the budget to use expensive temp staff and lacked the time and resources to establish their own company in Japan. They had been using temp workers from another agency, but were frustrated by the costs and lack of direct control afforded to them.
By using Mannet's easy and economical payroll management service, they were able to employ their own hand-picked sales representatives and instruct them directly, minimizing costs and reducing the stress of managing their employees in the workplace.
Travel Agency, Australia
A major Australian online travel booking agency had recently bought out an Asian competitor in Singapore with employees in Japan, and wanted to continue to employ these staff without the need to establish their own entity in Japan.
Mannet stepped in to act as a proxy employer for them, handling all salary and insurance calculations, and facilitating a seamless transition of employment for the personnel involved. With Mannet employees on the ground in Japan to ensure a smooth changeover, the company felt secure that their Japanese operation was in good hands.